New York-based illustrator Katherine Roy, a 2010 The Center for Cartoon Studies alumna, has been churning out book after book of gorgeously-illustrated nonfiction for young readers. In addition to her series of young adult novels, The Expeditioners, co-created with CCS affiliate Sarah Stewart Taylor, Roy produced the illustrations for Anthony Aveni's Buried Beneath Us, as well as her own project Neighborhood Sharks, which is due out through Roaring Brook Press this Fall. As I spoke with her, Roy was preparing to leave for Kenya to begin researching her next book project, a nonfiction book about elephants.  We corresponded via email in April.
Carl Antonowicz: So the last time you spoke with us here at the Schulz Blog, you were teaching a class at Art Institutes Boston, which had a really interesting panoramic drawing assignment. Have you been doing any more teaching?

Katherine Roy: I love teaching! Especially freshman art school students, they are just the best!! But I've found that designing curriculum for college-level classes is one of the most time intensive jobs there is, and between research for new books, promotion for upcoming books, school visits and getting the usual stuff done (eating, sleeping, bathing, etc) I've had a pretty full schedule. I hope to teach again soon, though, perhaps for the Foundation or Illustration departments of an art school here in NYC!
CA: You're headed to Kenya on a research trip for your next nonfiction illustrated book–which is about elephants, I hear? Could you talk about how you arrived at that topic and financed that trip?

KR: I've always loved animals and I've always loved science, and elephants have been one of my most favorite creatures since I was a little girl. I was known for collecting stuffed animal and wood-carved elephants throughout elementary and high school, most of which is still resting somewhere in my mother's attic. So once Neighborhood Sharks was underway and I was beginning to imagine follow-up books, African elephants seemed like the perfect next book. Where Sharks is about the physical proximity of a species to us living just off the coast of San Francisco, Elephant will be about the emotional proximity of a species. We have a great deal in common with elephants in terms of longevity, maturation, and family structure, and they are amazingly complex and intelligent creatures. I also love that Sharks takes place in the water and follows a predatory fish, while Elephant takes place in a dusty, land environment and follows a herbivorous mammal. The dramatic difference in landscape and type of creature will give me completely new problems to play with in this next book.
Oh man—financing the trip!  The moment after I got the amazing news that my editor had made an offer on the book and I'd finished jumping up and down, I was filled with dread about how in the world I would pay for it, because YIKES, going to Africa is not cheap. But luckily, thanks to a roundabout connection and generosity of a few strangers and scientists, part of my stay in Kenya will be as a guest at the Mpala Research Centre a few hours north of Nairobi, where I will be able to join the ecology and elephant research teams for a few of days out in the field. Following my time there, my mom will be flying into Nairobi to join me for a safari, and as we'll be sharing a room during Kenya's rainy "low season," the per person rate is surprisingly reasonable. I even found a good deal on the flight! The trip will still cost a money of course, but between selling drawings and prints upon my return, some savings, and a slight bump in my advance, I think the financing will come together without completely destroying my ability to eat and pay rent for the rest of the year (fingers crossed). I suppose in the age of the internet it's a little old-fashioned to insist on traveling, but the writing and the art in Neighborhood Sharks would not have been possible those days spent on a boat with the Farallon shark research team. I love traveling, I love learning about the way things live, and I love talking to scientists and researchers, so I'm fully committed to creating a life and a career where on-location research is my foundation for accurate, engaging stories. The passion comes through in the work, and best of all I get to share my experience with my readers through the books. Speaking of which, I'll be posting photos from my trip while it happens as much as the internet and mobile network permits on Twitter at @KRoyStudio! For anyone interested, please join in following my feed!
CA: Your book with Sarah Stewart Taylor, The Expeditioners, went into its paperback printing not too terribly long ago, and (unless I'm grossly mistaken), you have a sequel volume coming out this fall. Could you talk a little about your experience with this book?
KR: The Expeditioners series has been a joy to work on with Sarah. It's so rare for an author and illustrator to get to work together on a book—usually the editor stays firmly in between them, so that each party gets to contribute their own vision without feeling pressure from someone else's ideas—but for us the collaboration has been tremendously rewarding and the books are stronger for it. We've also both learned a lot from being so close to each others' creative process. So much of our lives as writers and artists is spent working alone, so it's great to be "in it" with someone else on the same team! The first book indeed went into paper back in fall 2013, and the second book, The Expeditioners and the Secret of King Triton's Lair, will be coming out in September 2014. I'm tremendously excited to share Book Two with our readers! Finally, I can neither confirm nor deny the possibility of an octopus submarine, so please don't ask me any questions about that.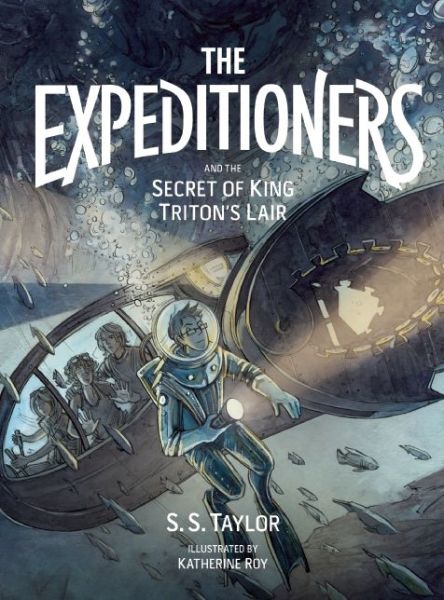 CA: Have you been doing any more work with the caterpillar character we saw in your thesis–or have your other works dominated the majority of your time?
KR: My upcoming nonfiction books, along with The Expeditioners series, have definitely dominated my creative time over the last couple of years. But even though none of that work is explicitly comics, so much of what I learned at CCS goes into every image I create. I do miss actual comics though, and the Caterpillar is never very far from my mind. Right now we're playing around with self-publishing my first Caterpillar comics on Kindle, and so far my very first Caterpillar comic, The Perfect Snowman and Other Caterpillar Tales, is now online and available as an ebook (http://amzn.to/1kb2DJP) with Spots and Junior Pharaoh to follow soon. I also have plans to pick up the series again in the future, perhaps shifting it into a more picture-book like comics-format so that it might find a wider audience. I definitely see more Caterpillar in my future, along with other fiction for kids!
CA: How is being a professional author/illustrator different from self-publishing comics? Obviously, you're getting paid for your work, but how does it affect your writing/drawing process?
KR: For me, the actual writing and drawing is the same process, regardless of who publishes my work. It's hundreds or thousands of hours at a desk, drawing and scribbling notes and having amazing breakthroughs and being hopelessly stuck, and ultimately producing something for other people to read. But the real difference is in that question of how getting paid actually happens, and how many strings are attached to the commercial outcome of a project. When you self-publish there's more creative freedom—you can do a book of any size on any topic at any print run—but that freedom has to be paid off in some other way, usually with another job. With a brick-and-mortar publisher you have to ask yourself "Will 10,000 strangers pay $25 for this book?" Most of us can't really answer that question, but an editor has to feel some confidence in the sales value of an idea to commit the big time and money it takes to bring a book from concept to shelf.
I like making books, and I like getting paid, so I guess I just choose from the ideas in my head which ones make more sense for a publisher and which ones make more sense for self-publishing. But once a project is underway I try to forget about all of that and just focus on making good work.
CA: What else is on the horizon?
KR: So many things! My third book as an author/illustrator will be Making More, a nonfiction exploration of reproductive biology in the natural world, and coming up soon I'll also be working as the illustrator on a book called Bottle of Pop by author Greg Mone, all about how plastic and soda are made and what happens once to the bottle once you're done drinking it. Beyond book projects, I try to get out and enjoy NYC as much as I can, and I'm also attempting to learn how to play the violin. I'm on my way to my dream of being as mediocre a violinist as Sherlock Holmes!